Rwanda and Uganda Revisited Sept/Oct 2022
Our Director for Africa, Roger London, was recently able to visit Rwanda after a gap of about four years caused by Covid restrictions and a dispute between Uganda and Rwanda which closed the border between the countries.
While he was there, he met with the Team and reviewed the progress of the Lifewater Reconditioning project, sponsored by the Aall Foundation.
He then went on to Uganda and was involved with more Lifewater projects and ministry, as well as meeting with Ugandan Government officials.
His report follows:
My itinerary began in Kigali, Rwanda's rapidly developing capital city, where I landed and spent the first night before being picked up the following morning by Emmanuel Gasabira, the Rwandan Watchmen international (WI) team leader. We travelled first to Kayonza District to visit Andrew Munana's home village. Andrew is the  Rwandan  Africa Youth Award (AYA) leader and also an Area Coordinator there for Lifewater Projects. As recently as early September there had been a Lifewater Reconditioning Project, sponsored by the Aall Foundation, in the villages surrounding Andrew's home. My visit was to see what had been done in the previous few weeks and to sit down with the Africa Youth Award (AYA) young people to catch something of their stories. It was great to hear that most of the 300 village homes had already been visited and their Lifewater systems renewed. We visited a few village homes to see some of the Lifewater systems in these homes. Local folk were so appreciative of the work that Lifewater and the Aall Foundation were doing.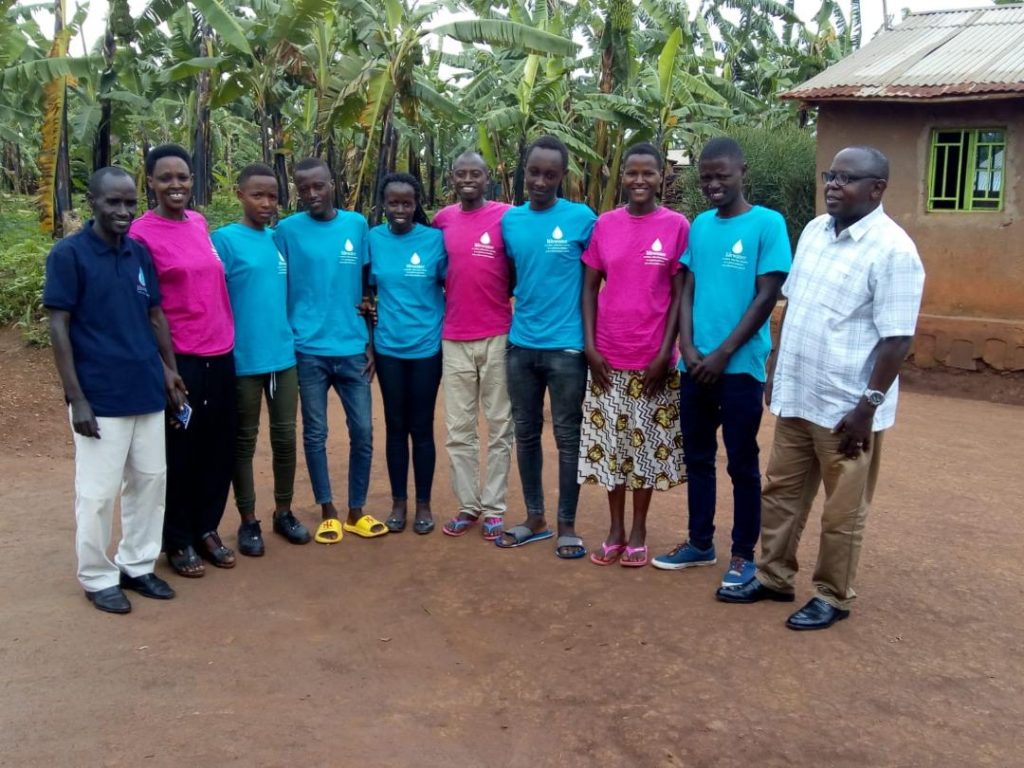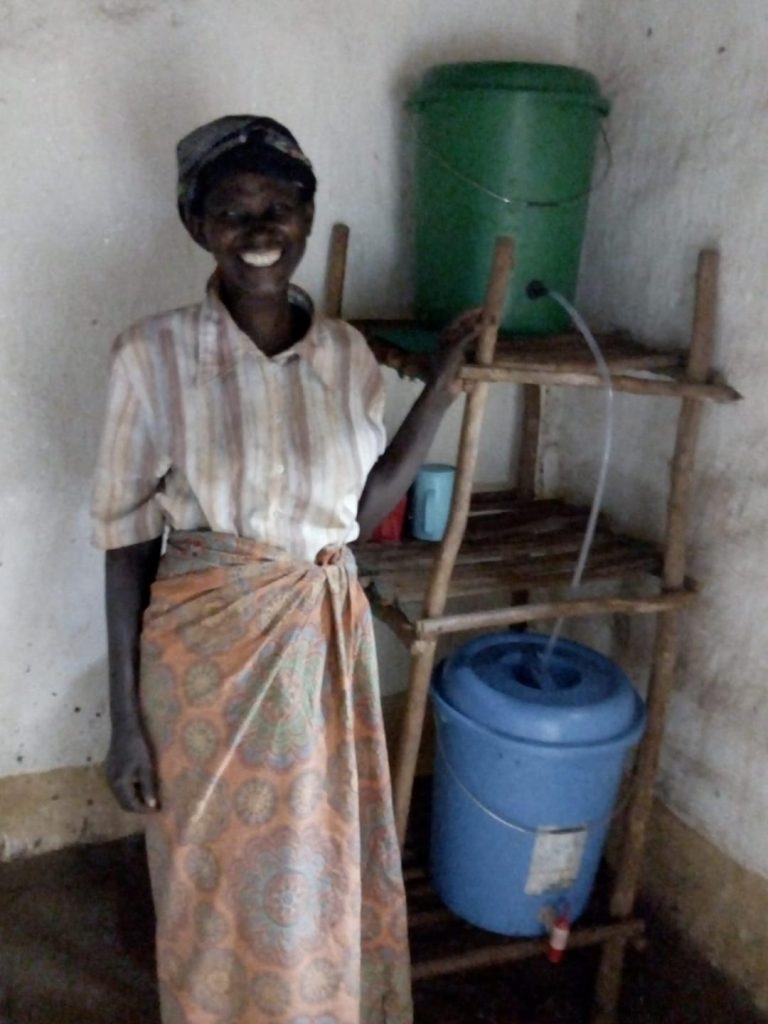 Later in the day we continued our journey to Kabarore, Emmanuel's hometown, where the following day we would be meeting the husbands and wives who make up the Rwandan WI team. Laban and Lillian Mbabazi joined me that evening having driven down from Kasese, Uganda. It's around four years since we were last able to visit the Rwandan WI team because of the Covid-19 pandemic and because of a border spat between Uganda and Rwanda. So, it was especially wonderful to have a whole day of ministry, discussions, prayer and eating together with the team. Laban taught on the need to continue to be Watchmen right up to the time of Jesus' return. I followed that up later by sharing on how we need to prepare, not just for Jesus' return but also for living through very difficult days before His coming, which have already begun as Jesus taught.
The final day in Rwanda was spent in Matimba, a town near the Ugandan border, where I was able to teach in Celestin's church on the Sunday morning. Celestin is one of the Rwandan WI team members. He has a growing church filled with mainly younger people. The theme on Saturday evening, where we met with leaders from the church, and on the Sunday morning, was very similar to what had been shared with the Rwandan WI team.
On to Uganda
The time spent in Kasese, Uganda, was very brief as we literally had only two nights there before the Lifewater Core Team (including Caleb, Stephen, Joseph, Boaz and me) set off for Arua, in North-western Uganda, our base for the Water Works distribution in Rhino Camp Refugee Settlement. The journey on the Tuesday morning was long and arduous and not without mishap – in fact, three mechanical issues altogether: the first was loose wheel nuts on a front wheel, caught just in time to prevent the wheel flying off; the second was a burst front tyre which, amazingly, was later stitched, patched and super glued in a local trading centre on route (it lasted the whole trip!); the third was a leaking petrol tank which was removed and repaired on arrival in Arua.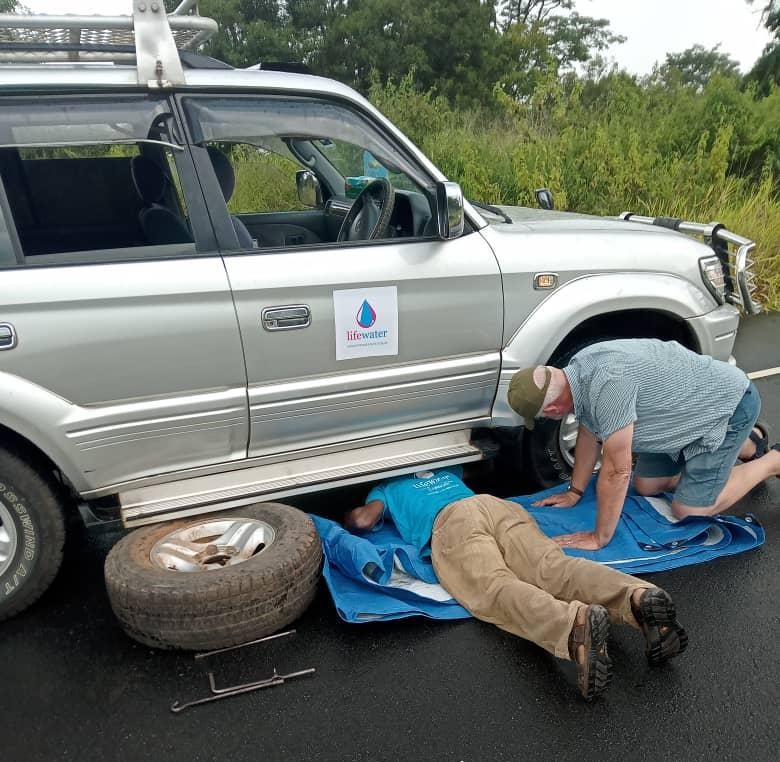 At Rhino Refugee Resettlement Camp
The Lifewater / Water Works distribution went very well at Rhino Camp, where the first two days were spent distributing emergency kits to 180 refugee families from the South Sudanese Dinka tribe. On the third day we distributed another 80 kits to host community families. These are Uganda families who also live in the vicinity of the refugee Zones – the Ugandan Government wants 30% of all NGO refugee distributions to now support local indigenous communities, who are also in great need, especially of clean and safe drinking water. Many of the recipients of the kits are what is termed PSNs (People with special needs) – these include the physically disabled, traumatised, orphaned and elderly. One of the distressing things that I overheard whilst in Rhino Camp is that regular food distributions to refugee families, supplied by the World Food Programme, have been seriously reduced because of the huge rises in food costs – this  means  only  one  thing:  the  refugees  are expected to eat less than the meagre provisions that they had before!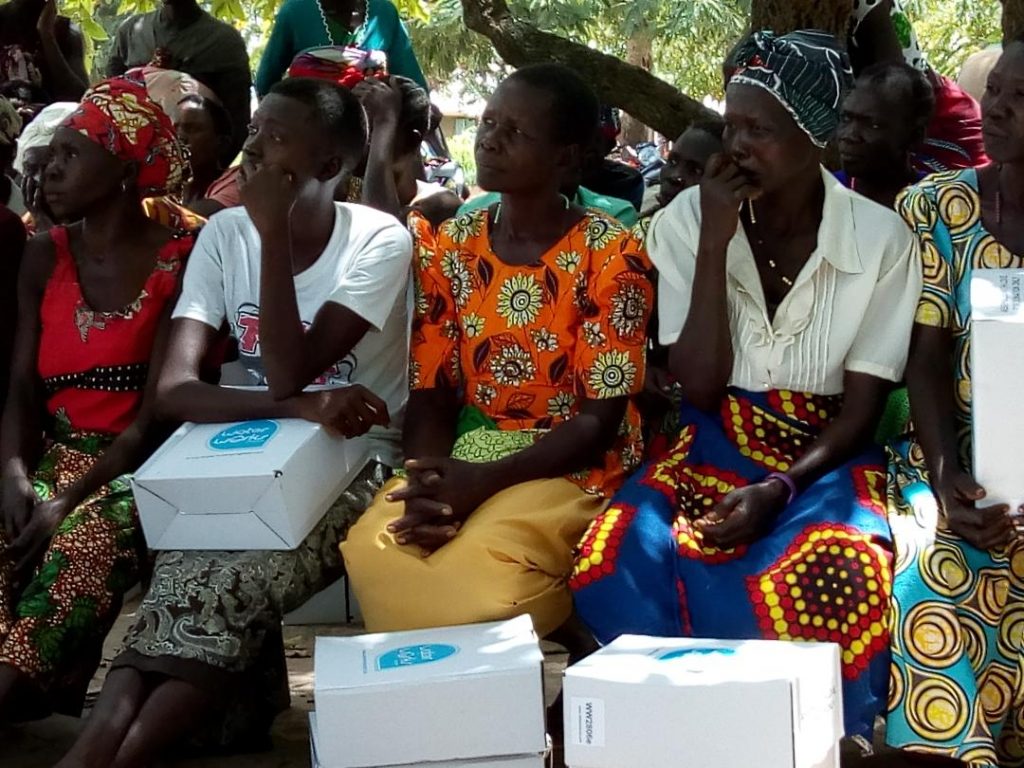 On to Kyaka II Refugee Settlement
From Rhino Camp the team travelled south, back to Kyegegwa District, stopping overnight in the sweltering town of Pakwach. On the Sunday morning Stephen and I travelled the short distance from our lodgings just outside Kyegegwa town to Katoma, where Caleb pastors a growing village church. Caleb is also the WI National AYA leader as well as being the overseer of a number of local churches, including a few within Kyaka II Camp. Again, it is almost 4 years since I was last in Katoma and it was wonderful to be able to teach in the Sunday morning service and to meet up with many old friends. The previous day, as we pulled up behind a minibus taxi in Kyegegwa town, I asked the meaning of a word that was plastered across the rear windscreen of the minibus taxi. 'Sibyangu', a Luganda word, means 'things are not easy' – which became the title of my prepared Sunday morning teach!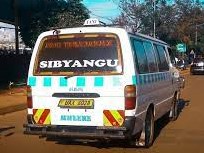 On the Monday morning we began a two-day Lifewater / Water Works distribution in Kyaka II Refugee Settlement, which now numbers 117,000 residents. Rita, Joseph's wife and Alex had now joined the team, with Joseph returning home – it was a planned half-time change around. The day began meeting with our Kyaka II partners, the resident Oxfam team. Over two days we were able to distribute 170 Lifewater systems to refugee families within Kikoni Zone (On average that would represent around 850 individuals). I was so impressed with how well and efficiently our team and the Oxfam team worked together, along with the support of local Zone leaders and VHTs (Village Health Team workers).
On the second day of our distribution, I had the opportunity to visit the swampy water source that is the main place in that growing Zone where residents can currently access water for drinking, cooking, bathing, etc. The water was so unpleasant, very muddy, and most probably full of bacteria and parasites that cause serious waterborne diseases.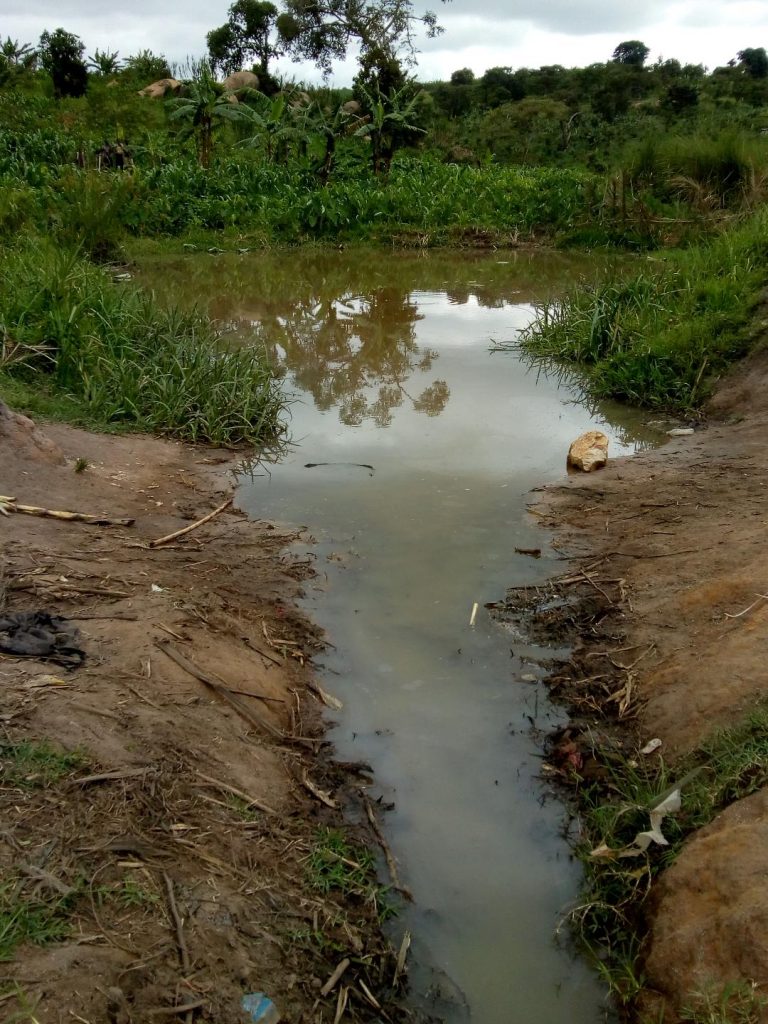 Before having the opportunity of receiving a Lifewater system people are encouraged to boil the water before drinking, but many have no access to wood or charcoal to do this. There had been a borehole sometime in the past, but it had stopped working. Similarly, a few standpipes had also stopped working. 'Water Guard' tablets (used to sterilise the water) had also stopped being distributed in that Zone. I'm not trying to apportion blame – the reality is that, in the few years that we have been working in Kyaka II, the refugee population has quickly grown from 30,000+ to 117,000 individuals. The need has clearly been outstripping the resources available to adequately rectify water issues in the Camp.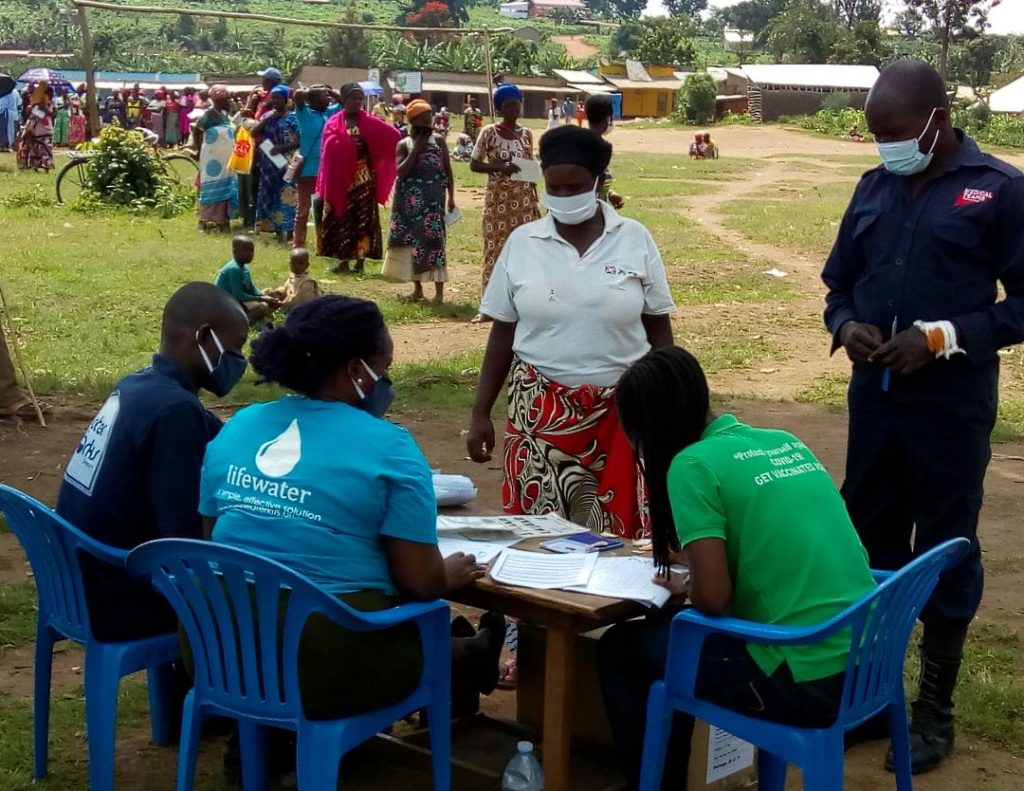 And finally …
From Kyegegwa, I travelled back to our usual end-of-trip oasis – Banana Village. Only one appointment was left – a visit with our local shipping agent, Methuselah Bagyani (known as Metu), to Kampala to visit the Assistant Commissioner for Trade's office to discuss valuations and taxation on our regular Lifewater consignments shipped to Entebbe. The meetings generally went well but in Uganda no change takes place without a mountain of paperwork to prepare and submit. However, I'm confident that the end result will be well worth the effort and, hopefully, will release more of our sponsors' money back to where it can be used with such amazing results.