Rhino Camp and Kyaka II Camp distributions July 2022
Rhino and Kyaka II Camps are the two Refugee Settlements where Lifewater operates. We have, in the past, had various distribution in these Camps. For this trip we were having Rhino Camp Phase 11 distribution and Kyaka II cohort 26. We also had visiting donors to observe the distributions. The donors were led by Matt Henricks our main Water Works donor for these two camps. 
We carried with us 100 filters, 100 tubes, and 100 green cleaning pads as replacements for worn-out systems in Rhino Camp. These were provided by the Aall Foundation.
On the 27th August we started our day with a meeting with the Diocesan Secretary of Madi & West Nile Church of Uganda Diocese. Mr Godfrey Nassor appreciated so much all the support Lifewater, working with its donor Water works, is giving to the refugees. He mentioned that Lifewater was among the few partners that they were working with after the Covid 19 Worldwide lockdown. We then left the Church of Uganda offices with Madam Jesca and Godfrey Akumu for the distribution.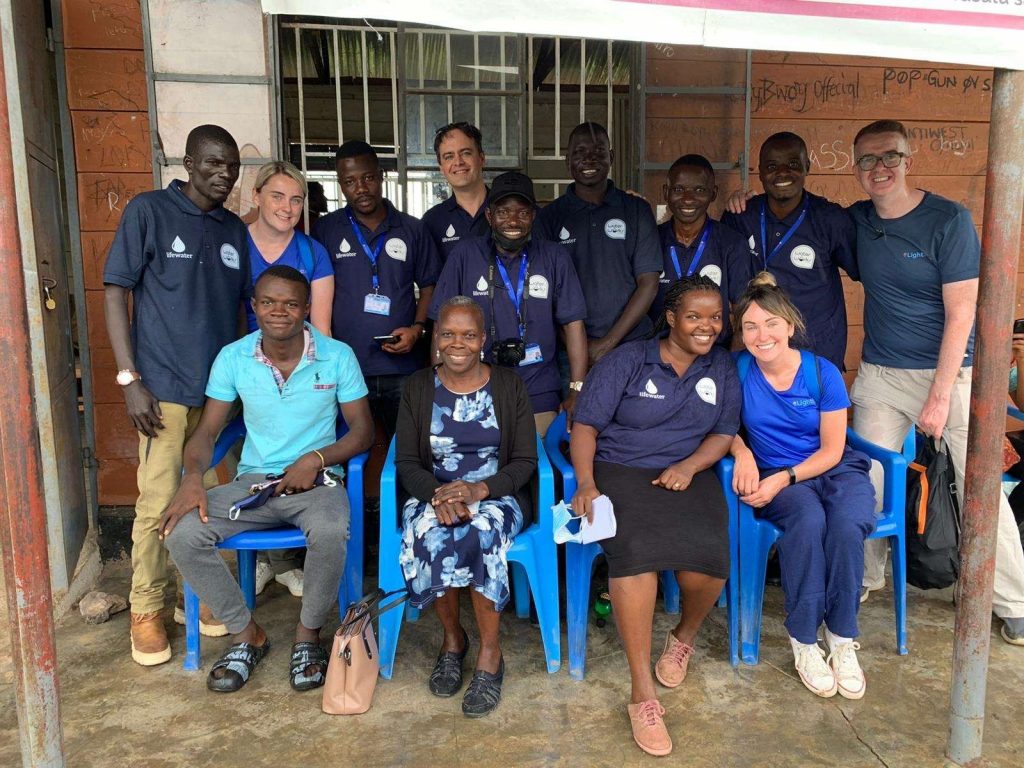 The distribution was successful and we thank God for the good weather and safe travels He granted to us on the trip.
Our projects Coordinator, Caleb, did amazingly coordinating all the events of the day. He introduced the guests and, in detail, explained about Watchmen International.
Matt and the team from Ireland had time to talk to the beneficiaries and observe the entire distribution over both days. They also visited the nearby school and had time with the children.
They also introduced an idea of ringing the bell which they do during their trainings when a kit has been assembled. This bell was rung by every beneficiary who received a kit. This was to complete the process of assembling and receiving the kit. The distribution lasted two days with 160 households benefitting. These reside in Simbili 1 & 2 and Sirifi Zones.
There were beneficiaries from two nations – DR Congo and South Sudan, who speak different Languages. The Congolese spoke Swahili and Lingala while the Sudanese spoke Arabic. Stephen and Joseph spoke Swahili for training the Congolese Refugees while Fabian translated into Arabic for the Sudanese.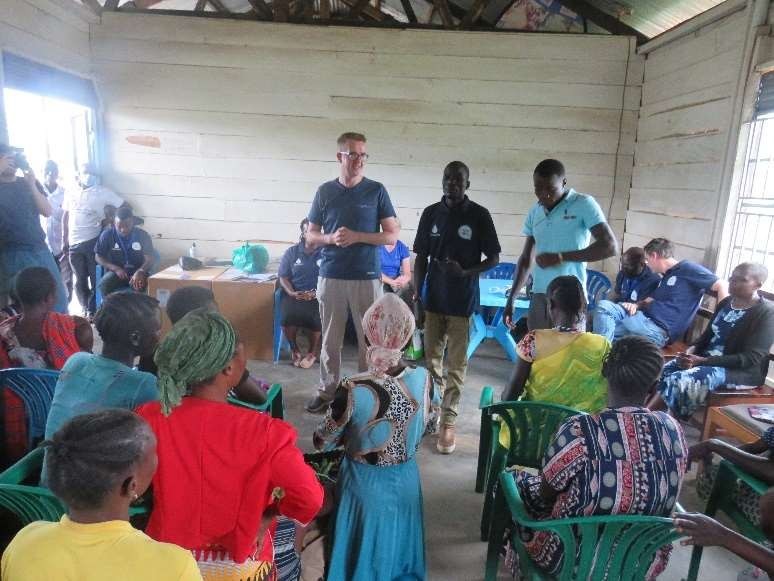 Kyaka II distribution started on 01/08/2022. Before distribution our guests and the Lifewater team had a meeting with our partners from Oxfam, who were very grateful for the support Lifewater was giving especially to the new arrivals. They noted that the kits have been very helpful in areas where there was hardly any safe water for drinking.
After the meeting at the Oxfam offices we later had a meeting with the Kyaka II UNHCR focal point person, at which we discussed ongoing funding for the project. UNHCR extended their gratitude to Lifewater and to Water Works for the consistent support they have given to Kyaka II Refugee Camp.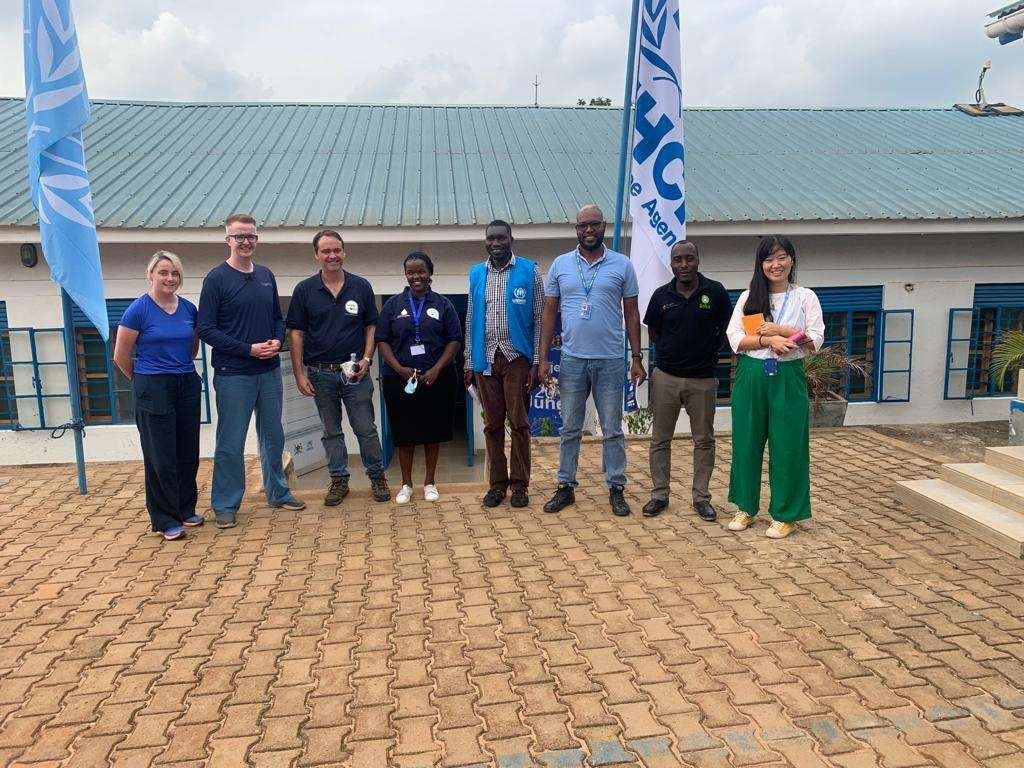 We then went to Kakoni zone for the distribution. This zone has a spring water source. We heard that some of its taps and boreholes are broken down.
125 families received LifeWater Kits and were taught how to assemble them into LifeWater Systems by the Team and members of the Local Africa Youth Award (AYA) group (see picture below). After the distribution we visited homes of former beneficiaries and current beneficiaries. We were happy to find them using the kits. Matt and David had time to record testimonies in these homes.
One of the homes we visited was of one of the AYA members called Joel. He informed us that he had left DR Congo many years ago with his parents, who later moved to Kenya. He later joined AYA and developed a skill in carpentry. With this skill he has set up a carpentry workshop and makes chairs and different furniture. He helps beneficiaries make stands at a low cost. He has been able to take care of his family well. He is grateful to Watchmen International which has been very impactful in his life. He has used his water filtration kit now for over four years and it's still in good condition.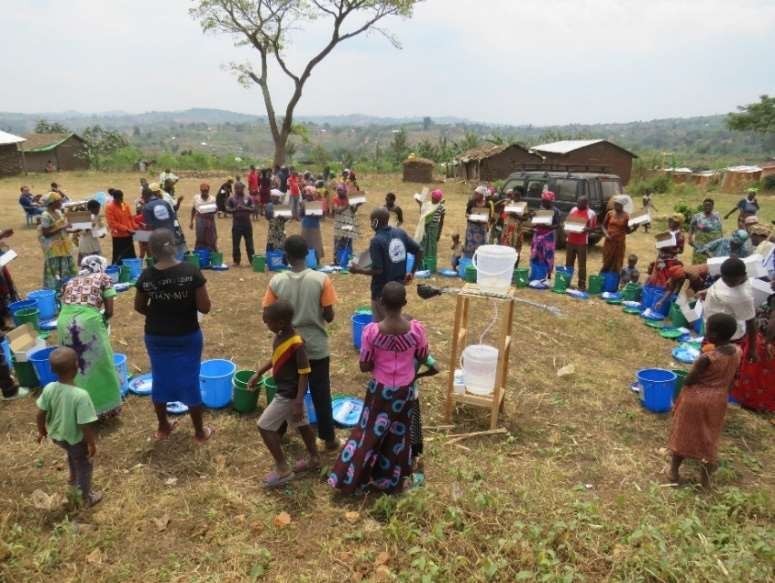 We thank God for helping us finish the distribution and granting us safe travel to and from Arua for the Rhino camp, then to Kyaka II. We were also thankful for protection of our vehicles from unnecessary breakdowns. We appreciated the work Matt put in for coordinating the guests.
We thank the Lifewater UK Board for trusting us to host these very important guests. We appreciate Roger for planning this trip. We are grateful for all the guidance and support he gave us during this trip. He was far away but we felt his presence and consulted him all the way. He gave us timely solutions to the hiccups we met along the way.
We pray that this visit will yield more sponsorship for Lifewater that we may be able to serve many more vulnerable people.