Lifewater and Africa Youth Award (Kenya and Uganda) Report Feb. 2023
Introduction
This is a brief report of the visit to Kenya and Uganda by our Africa Youth Award (AYA) Director, Glenys London, with key elements of the itinerary to enable the Directors of Transformed International and Lifewater (and their supporters/sponsors) to have a clear overview of the work carried out by the teams in these countries and regions. By delivering these programmes there is clear evidence that the work is effectively having a transforming impact on many peoples and communities in Jesus' name.
This report conveys the enthusiasm and commitment the teams and youth show through their involvement in Lifewater and the Africa Youth Award (AYA). In Kenya and Uganda.
The aim of visiting Chemoses was to deliver Lifewater Monitoring and Evaluation update training.
This is to enable the Africa Youth Award participants, who showed great interest in being involved in this community service, and included training to increase their understanding of the data needed. It also aimed to increase the confidence of the young people to fulfil this role accurately and appropriately.
It included:
Approaching a homestead respectfully
Filling in the monitoring and evaluation forms effectively and with consistency to the data input
The training included theoretical training, covering data input and various scenarios.
Later in the day we did some practical, 'insitu' training as we visited various homesteads that had previously received Lifewater kits to demonstrate then observe the young peoples new skills in Monitoring and Evaluation,
The training was well received, and the young people expressed they now have a better understanding of the method and purpose for consistency of accurate reporting.
The aim this Africa Youth Award Leaders day was to have new training of young leaders that have completed the AYA personally and are now active in leading groups. This has been
a good outcome for Kenya, as the Award has always had the vision 'to grow as we go' our own leadership, by completing Silver (discipleship) and Gold (Leadership)
Two main areas were covered:
Introducing the new online registration process for registration and participants evaluation
Engaging new young people into the group through teamwork
This training included 13 young leaders and the 2 overseers Pastor William Nyela and Pastor Anthony Masika.
As a part of the training I was able to explain how important it was to have concise testimonies of the impact of the Award for promotion and possible sponsorship – here are a few examples: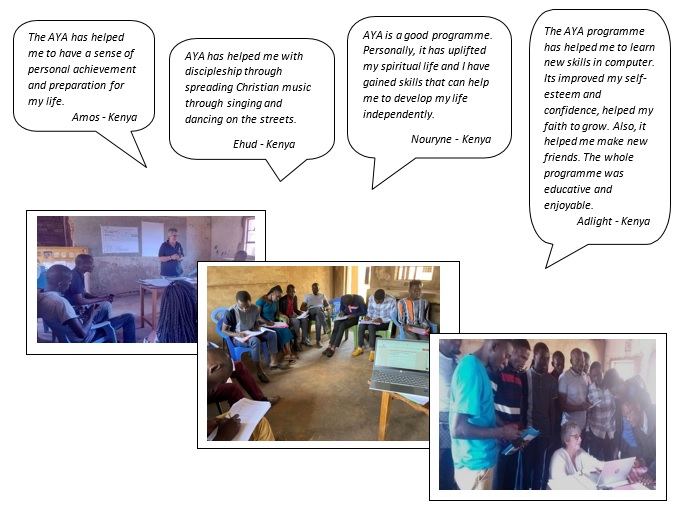 Free Pentecostal Church – Kitale AYA Graduation
42 of the young people were present to celebrate their achievement through the Africa Youth Award. 28 young people could not attend as they were away at school.
We celebrated for all 70 and the certificates were issued.
Many shared how the Award had impacted their lives and many of them had learned a skill to enable them to sustain themselves.
Duncan, having completed his Silver and Gold Award has now become the Assistant AYA Leader in Kenya alongside Pastor William Nyelela. He also runs his own carpentry business which keeps him, and his family sustained and busy.
Mount Elgon – Borders
Launch of two new AYA groups in Njoro and Nabeki villages.
These villages were far up on the slopes of Mount Elgon. The team split to cover these villages.
Njoro was greeted by all and then Pastor William and Pastor Anthony remained.
Duncan (new AYA leader), Rosalind Masika, Janet Mulunda, Caleb Kabaho and Glenys continued upwards on unmade roads towards Nabeki where we could see the Elgon mountains over in Uganda.
These two participants registrations that took place in Njoro and Nabeki villages, consisted of approximately 100 young people excited to start this programme.
Eastern Uganda:
The Ugandan Lifewater team had a rendezvous in Tororo to collect Pastor Caleb and Glenys London. They had crossed from Kenya via the Malaba border into Uganda for the next part of the itinerary The whole team then travelled onto the Ugandan side of Mount Elgon. We arrived in the Sironko Area where Pastors Bernard and Grace Makoba met up with us for this Lifewater Village Distribution with the support of AYA participants.
Bibiriza Village
This distribution, sponsored by The Aall Foundation, enabled 124 households and one school to receive access to clean and safe drinking water. The distribution was over two days. The AYA young people involved were very organised and played a vital part in the preparation and the delivery of the training in how to assemble and use the systems effectively.
There were good discussions post-distribution outlining some of the difficulties of monitoring at certain times of the year. This is particularly poignant to the work in Kenya and Uganda in the areas up Mount Elgon, due primarily to the distances needed to be travelled between the homesteads. They can travel good distances and then find the owners not in. Weather also determines times it is possible to reach places. Waterproof coats and boots have been requested alongside water bottles to enable them to carry enough cold water when the days are hot and there is no water or shelter available in the areas.
Western Uganda:
 Kasese and Karambi near Bwera
Kasese was an opportunity for some rest before moving on with the itinerary.  There was the opportunity to attend church and see many friends we had worshiped and lived with over the years – it is never enough time in Kasese itself, but renewing fellowship with all was a wonderful opportunity. After the church service in the morning a group of us went to an area near Bwera which is on the border of Uganda and Congo. We visited a Chrisco Church where they have their first group of young people participating in the AYA silver award. This was very much an impromptu visit in which we aimed to encourage the youth and leaders in the discipleship and development of their young people. We felt our way in how we could meet all expectations and concluded that a challenge that led to praise and worship would be a great way to get the youth involved and a big part in the success of the short time we had – some photos will tell the story better… but I only have video available.
The leaders were equally involved, and it gave them a 'tool' for engaging and empowering the young people they are ministering with and not always considering the up-front roles many are familiar and comfortable with.
Kyaka II Refugee Resettlement Camp
The final call of my itinerary was to the Kyaka II camp for a graduation of Silver and Gold  AYA participants. This area has benefited enormously from the AYA over many years. It was one of the first areas where the AYA was embraced for its discipleship and personal development. It was a honour for the team to be a part of this celebration.
There is nothing sedate about such an event when young people are testifying to how God has transformed their lives in such harsh conditions. Many shared how this award has enabled them to earn from their skills, and change through understanding who God is and what that means in their personal lives. Hope has been redeemed for many of these refugees and they are always ready and committed to give help and service in their communities. Some have now served the Lord alongside AYA and Lifewater, not forgetting the other programmes that Watchmen / Transformed International are also working through to see Spiritual and Personal development in the lives of those we touch.
The team were continuing with working on a Lifewater distribution, sponsored by Waterworks, for the following days which I attended for the morning. This was also a key time for Lifewater and AYA to work together. It was good to meet the managers of Oxfam who are working in the camp and partnering with us. A global system, devised by Waterworks, is in use registering all donations of Lifewater Kits and the recipients which is a tremendous help to our distributions.
Acknowledging the days we are now living in, we still need to reach many with our core message: 'Preparing Gods people for the soon return of Jesus Christ' through all that we do.